DRUM FRETTING TUTORIAL
Here is my drum fretting tutorial. There are a few things you need to do before you get started however.
Reading Material:
1.
Puppetz tutorial 1
2.
Puppetz tutorial 2
3.
Puppetz tutorial 3
4.
Nobby's tutorial
5.
Rockband creator tutorial
Things You Will Need:
1. Tablature Editor(I recommmend
TuxGuitar
because it is free)
2.
FL Studio
3.
Feedback
(get .96b...it is better than .97b). You can use EOF if you have to. :(
4. A functioning brain.
Preliminary Stuff
1st thing you need to do is get a tab. I like to use
http://www.ultimate-guitar.com
Find a power tab or guitar pro tab for your song with a "percussion" section in it. Not all songs will have a tab with percussion. Don't cry if you can't find a drum tab.

Once you find and download your tab, open it with some sort of tablature software and export it as a midi file.
Now open your midi with Flstudio. Make sure you don't have "Realign Events" checked.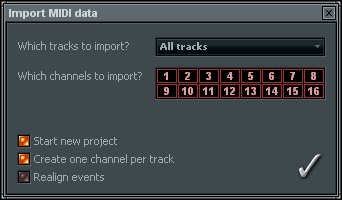 Now you have to find the drum part of the midi. It will be the pink/red one. Delete all the other ones by right clicking on them and pressing delete.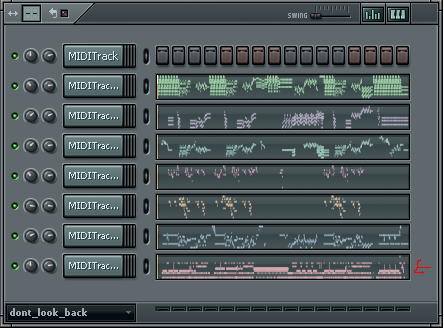 Now you need to open your notes so you can see them. You can do this by clicking on the notes. Now that it is open you will see the notes and off to the left there will words saying what drum each note pertains to. You can also mouse over the notes and see what drum they are for.
Now it is time to move your notes to the right places. You can select all the notes of one kind at once using the select tool, for example, clicking on the "electric snare" key over to the left will select all the "electric snare" notes. As you should have read in Nobby's tutorial, frets on fire reads the notes in the C8-E8 area.
As far as where you should drag the notes, here is a simple guide to where the drums should be placed:
Green(C8) - all bass drum notes in the midi
Red(C#8) - any kind of snare drum or really fast hi-hat
Yellow(D8) - all "closed" or "pedal" hi-hat notes
Blue(D#8) - all "open" hi-hat notes, all tom notes(you will split these up later), and all ride cymbal notes
Orange(E8) - all other "cymbal notes""
After you have moved all the notes around you need to "shrink" them.(Look at Puppetz Tutorial 3 to see what I mean). This will make it so you don't have any "tails" on your drums notes. That pretty much covers everything you need to do in fl studio. Now you just need to rename your new track "PART DRUMS" and export it as a midi.
YOU ARE NOT DONE YET!!!!!
If I catch anyone stopping at this point I swear I will shoot them. Tabs are never 100% perfect. If someone finds a perfect tab please tell me so we can praise the tab gods together. Basically what I am saying is that now you need to open your midi in Feedback so you can listen to it with the song and make everything from BPM to note placement changes. One thing you should look out for is the bass pedal notes, because tabs usually get them wrong.
Now is the time for me to teach you one of the more complicated drum fretting issues, tom-tom fretting. In Fl studio you simply put all the tom notes as "blue" and left them. Now you need to separate them based on how high or low they are. What you need to know is that "yellow" is the highest tom and "green" is the lowest tom. As far as other fretting techniques all I can tell you is that you should look at RB drum videos. Study them to find out new fretting techniques.
That pretty much covers it. After you have made all the necessary changes in Feedback you are done.
Please Give Suggestions/Complaints/Comments.