***PUPPETZ ADVANCED SONG TUTORIAL***
POST HERE any related questions, and PM me if it's urgent!
Welcome to my advanced song tutorial. What you're about to read is my own invention and it's no where near the right or the only way to make good songs for FoF.
NOTE: It's not a professional tutorial but the more people read it, and finds flaws and missing things, then I'll add them here so I'll get it as idiotproof as possible! :)
Why is it advanced? Because I use a program called FeedBack to create my songs, and this is not a tutorial about how to use FeedBack, I explain how I use MIDI files to get them easy readable for you, and then get them placed in FeedBack the right way! That's the way I make song don't like the idea? Then just stop reading now! From here on I will refer FeedBack as dB!
Don't continue reading if you don't know how to use FeedBack.
When you've read this, I recommend reading my
2nd Tutorial.
also, for more, newer, better information.
Guide for using FeedBack:
Scorehero dB tutorial:
http://www.scorehero.com/forum/viewtopic.php?t=23507
AlBelGims dB tutorial:
http://www.mediafire.com/?dr3f9rdymjz
What is required to fret song the way I do?
- Audacity:
http://audacity.sourceforge.net/download/
- FeedBack Song Editor:
http://www.scorehero.com/forum/viewtopic.php?t=7466
- FL Studio:
http://www.tucows.com/preview/209204
(You only need the demo)
- Guitar Pro:
http://www.guitar-pro.com/en/index.php?pg=download
(It's 15 days trial, better if you have the whole product)
OR
- PowerTab:
http://www.power-tab.net/guitar.php#d5
- Tuxguitar (opens GP & Ptabs):
http://www.tuxguitar.com.ar/
- Internet Access, to get Tabs from:
http://www.ultimate-guitar.com/
--------------------------
FRETTING VIDEO
by Kotti
PS: I suggest you read everything before looking at this video.
--------------------------
Well now I'll start: I want to do Iron Maiden - The Prisoner, ok, so I've got the MP3. The new dB can read MP3 files, but since I need the song in OGG format so I can play it in FoF, I'll have to open it in Audacity.
(Picture 1a) I open it with File/Open... The song starts with people talking, but I don't wanna have that in my song, so I zoom it in and start dragging the song from the first drum beat to the end of the song (picture 1b). Then I click File/Export Selection as OGG. Simple, so you don't have to wait 40 seconds to hit the first note, if the song starts directly I usually go to audacity and go to "generate/silence" a few seconds, but that's just me, you don't have to do it.
The next thing I want are some tabs for my song. I could go directly to
http://www.musicrobot.com/
and download the MIDI of the song I want to fret, but I wouldn't recommend. Well I don't know if many but, yes a few atleast use Guitar Pro Tabs to fret song, so the best site for them is
http://www.ultimate-guitar.com/
(Picture 2a) I'll type for the song I want, and Click search. (Picture 2b) I see there are two guitar pro tabs of the prisoner. Remember to look at the rating! I usually download about three tabs of the same song if there are any. Because I would say that 99,9% of the tabs has something wrong, so always be careful. But lets say we just download the version 2 this time, and see how it goes.
Ok, so open click on the tab you just download or just open Guitar Pro and open the file from there. Ok, IMPORTANT, you can fret perfect (I know nothing is perfect, but still) songs just by these tabs, but it requires that you know what you're looking at! :D (Picture) Ok, what I do is that I export the tabs as MIDI file.
PS: With PowerTabs it works the same way as GuitarPro Tabs...
So now you should have FL Studio somewhere?!? Open FL Studio, then File/Open the MIDI file you just exported with Guitar Pro. (Picture 3a) You should see that Dave Murray start the song with his guitar playing, so click on the tabs there. (Picture 3b) I pointed out what you're seeing in (Picture 3c) as it is in dB, what I've made of that just by looking at that part in FL Studio.
Important thing is that you are seeing them like mirrors...meaining the high notes/Orange is pointed up, and in dB the low one/Green is pointed upwards, and in 3D view the Green one is on the Left side, so be aware of that!
I don't fret songs in that view as it is in the picture, I recommend the 3d view! Also you should see in FL Studio the fat lines as in the dB picture? In (Picture 3b) you also see the tempo of the song and now I say it to you, it's usually wrong! PS: Not in songs that usually are new and have the tempo always the same (Symphony X, DragonForce etc.) But the tempo can be right... it's 120 there in the picture, but that part in dB is fretted with 97 bpm so it would be synced.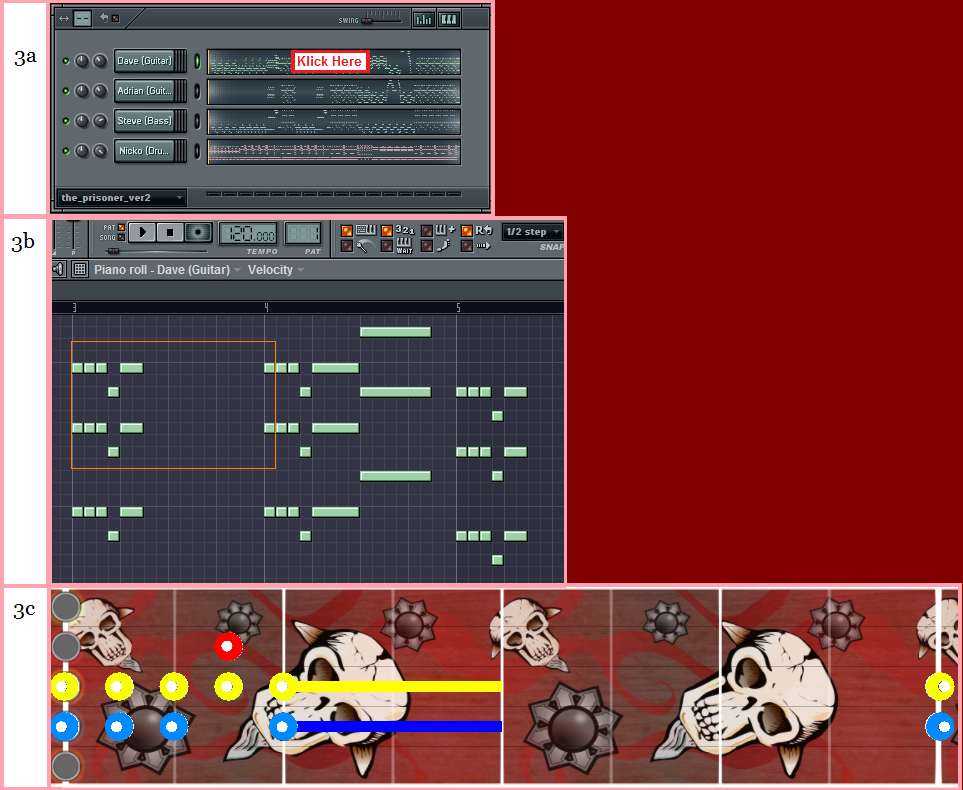 Ok, things to be aware of when fretting are tempo changes, I know they can variate by ~20bpm, usually not that much but it can. So to know the tempo changes in FL Studio, look at the picture! The pink/light brown or something... click on top of the screen you should be seeing that the tempo is changing.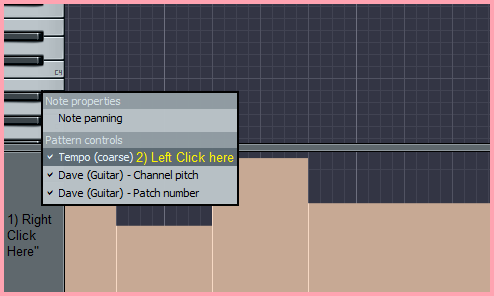 Ok now I think I said pretty much of everything, so now you just have to know how to place the note/chords into dB. I've made a picture in FL and describing how long the steps in dB are in FL. And the 1/1 Step is the same as "pressing" Page Up/Down in dB, in this case 1 Measure, from the first fat line to the second!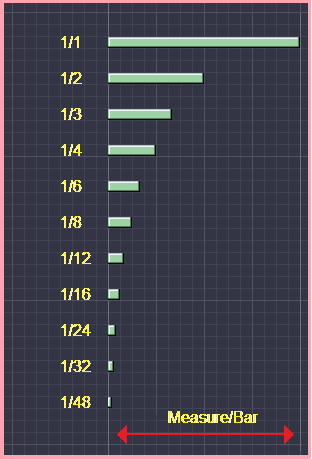 Ok, by looking at (Picture 3b) you should see that the 5th chord there is made by a 1/8th step? So why did I do it in (Picture 3c) as an 1/4th step? Yes because the tab is wrong! I ended the chord there because the guitar stops there. So what I'm saying here is that look only where the note starts (should be right), but don't look where it ends, do that whit your ear.
Important is that KEEP the timesignature as 4/4 when you do the song this way. Because FL studio can't register the T/S changes, so keep it as 4/4 as FeedBack has it from the beginning, you'll see it easy in (Picture 3b&c) how I place the first chord on the fat line, and the last one too, as it shows in FL. (When the song is ready you can change the time signature, if you want, it doesn't effect the game play).
Well you got the first chord on the fat line but the music start 2 seconds after that?!? Change the start of the song so it fits to your chord, or you can change the BPM from the beginning... I usually do both, so it matches as good as possible, cuz I love changing BPM in songs).
I made those 6 chords as in the picture before doing anything else. Because I knew they would be placed like that because I see it in FL Sutdio.
To get them synced, just change the start(time)/BPM as I just said. I change BPM manually but it's recommended to use anchors
http://www.scorehero.com/forum/viewtopic.php?t=24484
because it calculates the BPM automatically. When you synced the first note...then just make sure you get the right BPM in that first measure so you'll get the 6th chord hit the sound were it belongs.
Basically this is the way I make songs... by looking where to place the note/chords and having the right BPM to them, wich I do manually but again there are "anchors" for it. You should easily see if you fret wrong, because you have the lines there in db as they are in FL Studio. Look at the picture below! It's from Metallica Blackened solo the 6th blue note is on a fat line, then I know I have it right, I just have to have the right bpm! :)
This is a solo so you'll see they're all placed there with 1/16 step, and yes it's the same as the chords in The Prisoner but the difference is that Blackened solo has +200bpm and prisoner 97bpm. Meaning Blackened has twice has many notes there in the same amount of time.
I wasn't that good when I tried this the first time, but now I can look at FL and place up to 20 note/chords in dB just by looking at FL once. I can automatically recognize the steps of the notes.
But this takes time! So don't expect to fret a song in 30 minutes this way the first time you try it.
By I still remember, in FL Studio I usually use Page Up/Down (Zoom).
By having them this way placed on lines it's VERY EASY to just copy part from the song and paste them... because you see parts easy in FL what parts are used many times etc.
I'll demonstrate how copy/paste works... This is the intro from DragonForce - Operation Ground and Pound. And as I just described about the zoom thing in FL, here you'll see it, and you'll notice that the measures are pretty small there...
Ok, so I look at the first two measures, and what do I see?!? Looks like something that I can Copy? Yes and so I did and pasted it in dB about 13 times... So there I did 40 seconds of a DragonForce song in 40 seconds (I included the time to sync the first note) :D
***I will write more in this tutorial once I find out what I've forgotten to tell you***
COMMENTS ARE VERY WELCOMMED
! And just ask if you need any help with this... if you make a song please post the link here...