PUPPETZ ADVANCED SONG TUTORIAL 2
- Making songs this way can make you one of the best!
- Don't read this one if you haven't read the
first tutorial
.
- Ok, I had to make a new tutorial cause the old one was lacking several things. So this one will explain some things you all ready know, and I hope some new thing too. :)
- Took me about 200 songs to fret with FL until I really mastered it, so I give you now the knowledge I know right now. So you don't have to make over 200 songs until you master it. I want you to master it right away.
- So you should know what programs what to have. But I recommend going to
www.911tabs.com
and DL your tabs, by the sites recommended there use Ultimate-Guitar.
GETTING STARTED:
- Ok, so I have the tabs open it in FL and there I have the notes as they are played on the guitar right. You get the by accessing the piano roll in FL on an instrument (that you should know from my first tutorial).
- Ok, so if you wanna make a song, you need to mp3. Open the mp3 in Audacity. BUT most of the song start immediately. (if the song doesn't have guitar immediately, this process is not needed, but read it anyway). So I have All Along the Watchtower opened in Audacity. [Picture 1a] I go to "Generate", clicking on the "Silence". Then add 2.0 seconds of silence. This generates 2 seconds of silence to the beginning of the ogg.
- WHY? Look at [Picture 1b]. If I wouldn't have putted the silence to the beginning, the song would have started at 0.2 sec. And by using my method I have to start on a measure line (note: not always). So in this case I would have to place the first note on the second line. And force the BPM to 200. When the song starts then back to 109. What it does for the people who wanna play with variable bpm on. The song starts lightning fast, and when the first notes comes, there will be a furious break, and notes will smack right in your face. So no DON'T do that.
- Now you there is a function in dB that can make a start time on the song. Yes it works fine for GH. But not in FoF, cuz it adds an extra measure (4 beat lines) to the
beginning, which would result sometimes in a start BPM of 1200. So for the love of God, don't do that either. Just stick to my 2 second tactic and you'll do fine! :)
- PS: If you don't wanna add 2 seconds to the song. You can also go to the .ini file and make a "delay = ?". Meaning how many milliseconds you want the audio to be delayed.
- In [Picture 1c] I had a song which I knew would have a BPM around 130, which you see in FL (more in my first tutorial). So I had added the 2 sec silence. So I put directly 130 in dB. Press space, and listen where the first note comes, well now it doesn't hit a beat line, so I go back to the beginning and test different BPM's until the note hits a beat line. In this case it was 128. And It's on the third beat line, so I'll go back to the beginning and change the "Time Signature" to 3/4. So the first note hits a "measure line" (the fattest line in dB on the board). It's the same representing the fat measure lines in FL. And there I change it back to 4/4. So now it starts on a same place as in FL.
- PS: There's also a "Fade Out" function under "Effect". I use that in out fading songs to fade them out faster or on a better spot. Like a song ends with a loooong chord, then I just fade it out faster to make it better. Most songs end in a few seconds of silence. But I usually cut the "empty part" in the end so it'll take a sec until the song ends. Some songs might even have 10 seconds of silence before it really ends (cut that of), by marking it and press DEL.
FL STUDIO:
- Ok, so now you know how to make the first note. That's good. Now I'm gonna explain a little bit what you're looking at in FL.
- Looking in FL right now at Bullet for My Valentine - Waking the Demon intro. [Picture 2]
- PS: I colored the notes in FL, normally they're all gray.
- In FL the lower notes are "lower" and vice versa.
- What you see in FL now, that you need to add 1/16 notes = 4 notes within the first beat line, and they're the lowest in the whole song. So without a doubt they're green.
- Right bottom corner I drag a few lines to see how many different notes there are. Well they're 6 as you can see. Fast calculated that means two different notes has to be the same color. In this situation I'm in, the only option for me was to take the yellow notes. You should never pick notes that are same color if they're after each other. So there was only two options here where it doesn't happen. The other one was the two highest notes. But I didn't wanna make them both orange blue. It just doesn't fit. But that's just a key placement question.
BEAT SYNCING:
- The BIGGEST question IS... How to beat sync? Well now I'm gonna explain a "short cut" how you do it. It's a new "invention" I discovered recently, which makes my songs even more accurate than before.
- PS: I don't support anchors, that's just an opinion of mine,
but
"Typhus"
does, and he wrote a mini-tutorial that should help you to get started on using anchors. If you wish, you can see his "Anchor Tutorial".
- Beat sync simply means that the notes follows the beat lines. [Picture 3a] Notes are placed on the line or in between.
- So by following my tutorial you should have placed all notes on beat lines. Most songs have variable BPM. There are a lot of new music that has a constant BPM, which you only need MixMeister for.
- The secret in my syncing are the drums. Yeah, I sync drums when I make songs. You see in the [Picture 3a] that I have written BS (not bullsh*t) left of the fretboard. It's because at those parts I have synced, that you see right of the fretboard. S means Snare drum, B means Bass. You don't have to sync this tight. Every Snare is fine or even every second Snare. A song can't go many Milliseconds of sync by doing that. What I do at the start is I put a BPM on the line so the next beat line has that B or S. Same thing I do on that line etc. This sounds pretty tough, I know. Well in the beginning when you still are a noob, I recommend following the beat lines an change the BPM when you notice the note is offline. By knowing that just go to the note press space, in this case let's say it's a snare drum. That snare drum should be make the sound exactly there where the note is.
- In [Picture 3b] you see how there are random syncing and the notes DOESN'T follow the beat lines. If you fret a song with my tutorial, if you see your fretboard looks like that, that mean you've obviously done something wrong!
- The older the song the more variable the BPM. And some 70's songs even has the guitar offsync with the drums. If that's the case, don't sync the drums.
- The only way I can help with sync is that drum thing. And always go to the note and press "space" to hear it hit's that spot exactly. And when syncing use 0.5-0.75x speed. The slower speed, the more accurate your song will get, and takes more time. So you choose what you want.
- Also remember that the more songs you make the faster you'll get. A 3 minute song takes about 30 minutes for me to do. If I don't run up with some problems.
- Another important thing is that while you're a noob. Start by doing first exactly as the tab shows you. For example a riff. Then play it up in a slower speed, look if the music corresponds to the notes you've placed there. There are always errors in tabs.
- When it comes to solo... 90% of the tabs has them wrong. You just need a good music ear to hear how it goes. But some noob advice is to listen where the "peak point" in the solos are. Meaning the highest notes. Those are easy to hear. If the tab shows the same peak point, you can fret as the tabs show you...
- Here's a vid how Kotti syncs the first note --->
VIDEO
KEY PLACEMENT & HANDLING CHORDS:
- Well now I'm gonna explain more about the key placements. Which is of course an individual thing. But there are some rules people can follow.
- I have a song that has 4 different chords in the riff. [Picture 4a]
- You see in [Picture 4b] the 4 chords there. And you should be able to see that the first one is the highest one, the third chord is second highest! Get me? So I placed the notes in dB as I see it in dB. You should get that by just looking and using your brain. And looking at the second and third chord. You'll see that they have one of the notes in common. Meaning on real guitar if they'd come after each other, you'd only be moving one finger. So that's why I have the "BLUE" in them both.
- Now IF FL would have showed [Picture 4c]. You see they're all 3NC (3 note chords). That DOESN'T mean you have to do them to 3NC. Obviously GH did so with SlipKnot, and many people hated that fretting. So it's a matter of opinion here. I would just keep them 2NC in this case. Acoustic guitar might even show 6 or 7NC. And you don't even have an option to do so many notes in dB. So in acoustic songs try to see what fits best. regular 2NC and 3NC are used often in acoustic songs. But be easy on the 3NC's. Don't fret 4NC...never. (yeah I've done that, but I'm wiser now).
- Basically it means if FL shows 4+ NC I make them 2 or 3NC in dB. About 80% of the 3NC shown in FL I make to regular 2NC. It depends a lot on the song and the sound of the chords and the situation. So I can't really tell you obvious cases.
KEY PLACMENT VARIATIONS:
- Now I'll explain some easy simple key placement questions people have been asking.
- 5 notes in a row, from down to up in this case [Picture 5a]. The most commonly key placement is to put it like I've done to the first 5 notes. The next 5 are much lower and this is just an option how I would do those next 5, as they're much lower than the rest of the song. Same thing I could have done if they'd be much higher than the rest of the song and made them YBYBO. But it's not wrong to make those both just 5 notes going upwards. This situation is rare. You should always look at the bigger picture when it comes to key placment.
- Simple key placment's I've made in [Picture 5b]. The first one is 9 notes going up. And the next one are 8 notes. Those are very common in my songs. But key placement is individual. Some people might do 9 notes like 4, then 5 or vice versa. 8 notes can also be handled like GRYRYBYB. But that's a key placement made by looking on the big pic. Sorry if I've confused you. If I did, forget what I said...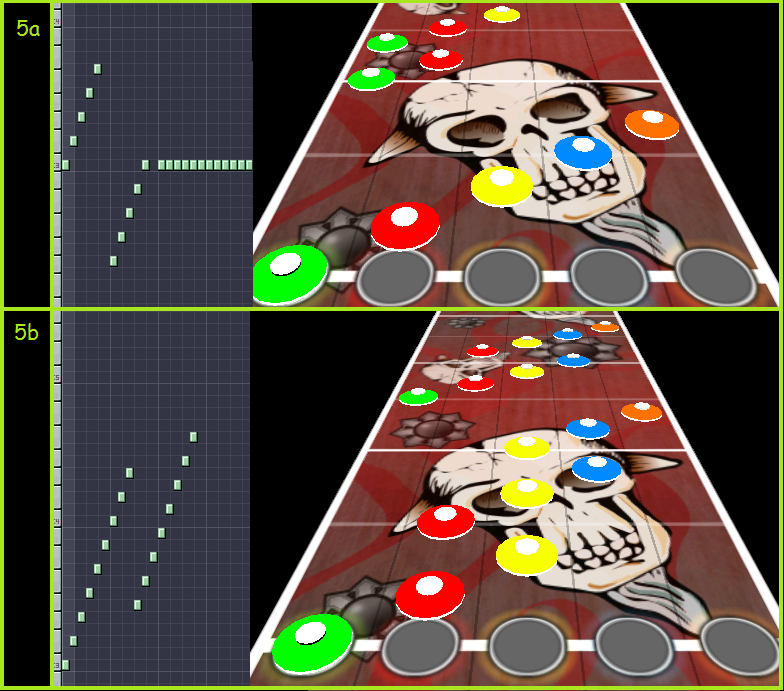 HELD NOTES:
- When should you make held notes? That's a hard question... It depends a lot on the fretter, but I can say to you that you've done too many of those in your previous songs. Everyone does that. Even me... Looking at newer GH/RB song you don't see held notes that often. So I'll try my best explain it.
- It depends on the BPM. Cause a held note crossing one beat line isn't the same in 100 BPM as in 200. If you look at [Picture 6a] You see that I've made a tail on the chord that is stretched to the next beat line, I accept that from about 140+ BPM. I don't do shorter tails than that.
- In [Picture 6b] You see that I've made a tail on a note that is only a half beat line. I do that if the BPM is really low like 75. That's why the yellow not doesn't have a tail cause it's 100 BPM there. The blue one has a tail cause it's a 75% of the beat line.. I do that if the BPM is about 100-130!? It's really hard to tell. It depends.
- FL Studio shows tail yes, depending on how long the gray "brick" is... But I don't rely on them. So I recommend using you ear. If a note has a long tail, just hear when it ends, then cut it of. And you should be able to hear if a note/chord has a tail. That's something you have to hear. Guitar sound still going = Tail. You hear no guitar = No Tail.
- Also a thing you might have noticed in those pics. Well I'm the only one as far as I know who does that, but it's not a thing anyone has to do. It's cutting th tails before
they hit the notes/chords. That looks a lot more professional in-game and RB/GH does it too. GH cuts the tails automatically FoF doesn't. (I've seen my songs played in GH when I had the tails going into the next note). I usually cut depending on the BPM AGAIN about 0- 119 BPM with 1/32 -> 120-179 BPM with 1/24 -> 180+ BPM with 1/16... But this isn't an important thing, I just do it to make the charts look better.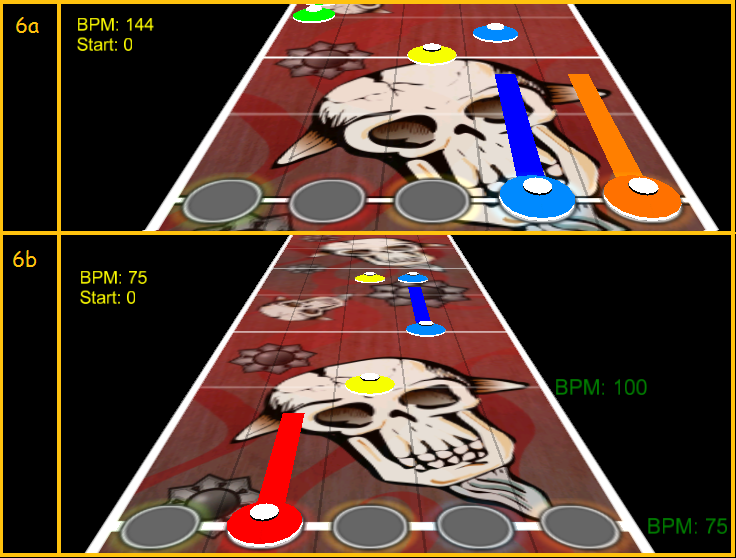 ADDING SECTIONS:
- There are two ways, GH or RB way. Well I've forgotten the GH way... So I'll explain how I make it the RB way.
- The only thing you need to know is the letter "R".
- In dB, on that place you want the section to start press "R" then type the following depending on what you want to add there:
Gtr_Solo_1
Chorus_1
Verse_1
Bridge_1
- You don't need the numbers there. But anyway, I start the solo by adding a section named Gtr_Solo_1. End the solo where you want it to end. Add another section.
- PS: The dB functions aren't European so the "_", is "?" on European keyboards.
-----------------------------------------------------------
FRETTING DRUMS:
- Fretting drums is very easy. A lot easier than guitar. It works the same way. Just by looking in FL you know what to fret and where.
- There is nothing really I can explain about it that wasn't described in the guitar fretting... Well here it's very important that you use beat syncing.
- On the left side you see what to fret. [Picture 6b] Very simple if you already know how to fret guitar.
- For fretting drums:
* Green = Kick/Bass pedal
* Red = Snare
* Yellow = Closed Hi-hat, Tom 1
* Blue = Open Hi-hat, Tom 2, Ride
* Orange = Crash, Tom 3
PROBLEMATIC PATTERNS:
- You may run into some problems while fretting, yes... it might be that the tabs are wrong or they could be right. I recommend doing as the tabs says, after that listen with 0.5x and you should clearly hear if it fits the song or not.
- Anyway, these tabs are right [Picture 8a]. The first four notes are not a problem, they're simple 1/16 (the most common note). Then you see that in the next two beat lines (marked red) has 9 notes in it. And there isn't a regular step that makes 4.5 notes in a beat line. So we have to use the "Quantization Interval" button, and it's "Q". It lets you choose any interval/step you want. This time I know that 9 notes in two beat lines means 1/18. So I just write 18 in it, and you may now move in 1/18 steps to put the notes there. These are very rare! I've used it in 2 songs of my 300...
- The next two beat lines (marked yellow) has 10 notes in them, 5 in one of them. This is also a step you don't have automatically in dB, so press "Q", make it 1/20.
- [Picture 8b] shows how it'll look in dB.
- The last to beat lines (marked green). You think it's a problem? No it's not, it's just regular 1/24 notes. The third/fifth/eight note are just 2 x 24.
- When using "Q". There's a 50/50 chance that you don't land on the spot you want. What do you do then? Yes, you double up the "Q". In the first case "the red marked place". If it wouldn't have worked with my 1/18 step, I would have used 1/32.
HOW TO ADD STAR POWER (OR OVERDRIVE) SECTIONS AFTER CHARTING DRUMS:
(Written by Typhus)
After defining Star Power sections (using dB with the "8" key) for all (or any) instruments, you will need to correct your chart. Why? Because, unfortunately the program chart2mid converts the chart into mid, in rock band mode (so that the drum part is written), defining the same "code" (that is note) for star Power as it would on Guitar hero mode. And that, unfortunately is wrong. If you don't correct your chart, you'll notice that the star power sections are going to be completely random (or not shown at all if you don't use FoFiX) while in play.
And so, if you open one of your mid file in FL you'll notice that the note used for Star Power is
G8
, but for rock band type of charts (that is, all charts that have drums) the star power note is
G#9
and not G8. This one is used for marking guitar solo sections. Therefore, after converting the chart file into mid you'll have to open FL (or another midi editor) and switch the G8 long notes for G#9. Unfortunately, FL removes section names defined in dB, therefore you'll have to add a long G8 note to mark the guitar solo sections.
For drum fills, or BRE, you'll have to mark C10+4notes up (like a 5 note chord) long notes.
Look into the following pictures to better understand this:
OUTRO:
- Well this was it then... I hope you understood something I just wrote? If not, just ask. See I have no idea what to write about, because all of this is so clear to me, so I might have left something important behind? But by following these guidelines I just wrote will make you a great fretter without a doubt. You do as the tabs show you. Sync all notes and you're done. :)
Written by Puppetz 25th September; 5000th post!