Worldraves Guitar Hero 3 MOD
=-=-=-=-=-=-=-=-=-=-=-=-=-=
This is for the 1.1.324 version, not the 1.2.451 version (certain things wouldn't work without modifying things in the program.)
This is a complete mod (Total conversion), zip file with everything (As in a complete whole package, standalone) but WITHOUT the songs, for obvious reasons (those are obtainable in the normal area.) I decided to do it as a standalone version to make sure no one has problems getting it working right, if ran it as is.
These are the things all currently done
=======================================
* New main menu
* Replacement of the menu background song (from gh3. I know there's multiple songs, BUT the main one you most hear mostly is the one i ended up choosing.)
* Changed jurgen note color to lighter blue to match, and also changed the note to default to match properly also. The meters are both aspect correct exactly like GH3 game.
* Re-made the neck * Re-made the sounds (strum, in, out.)
* Left meter is complete. Score, Multiplier, ALL 5 streak lights (Dim lights shown, then light up as it goes up, in 1/2 light/Full light increments.)
* Right meter done.(eventually will finish Jurgen bar when function is added.)
* Matching green score in scoreboard.
* Similar matching score font replaced.
* Jurgen Bar lights (close as can until picture placement is done, then i will redo the lights.)
* GH3 Scoresheet (You know- the HELP graphic toward the bottom of screen that says what keys/buttons do what)
* Background replacement.
* Replacement submenu backgrounds. (I will be making from scratch, because it has to match the text layout, but yet keeping as close to possible to GH3's.
Things i'd still like to do in the future
=-=-=-=-=-=-=-=-=-=-=-=-=-=-=-=-=
- Replacement of the Jurgen Guitar graphic with GH3 Lightning graphics
- Replacement of the Notes/Keys with more GH3 like ones.
- Tweaking better resolution pictures if/when i can
- Redoing the gameresults screen, so the text and such line up the blank spots i already made.
- Possibly still change the Difficulty level screen around a little to fit the text.
- Add a few Help buttons on Difficulty Level screen so it shows help on all screens (100%)
- Few more necks and backgrounds
I really didn't think i would've cared for the new meters, which i originally didn't, but since i bought it, and played the hell out of it, i actually like them a lot more, not that you have a lot of time to even look at them much.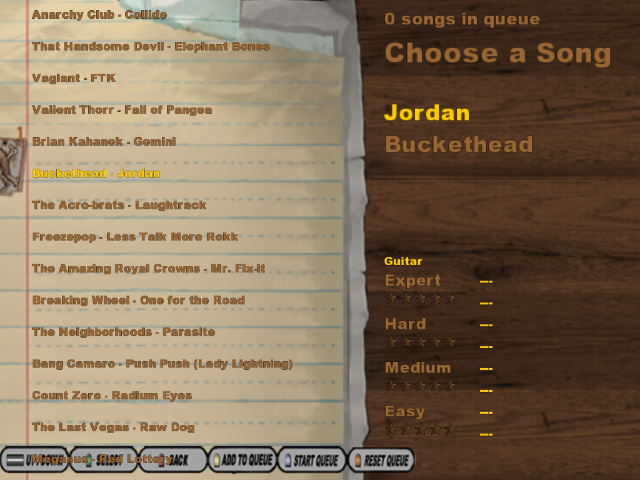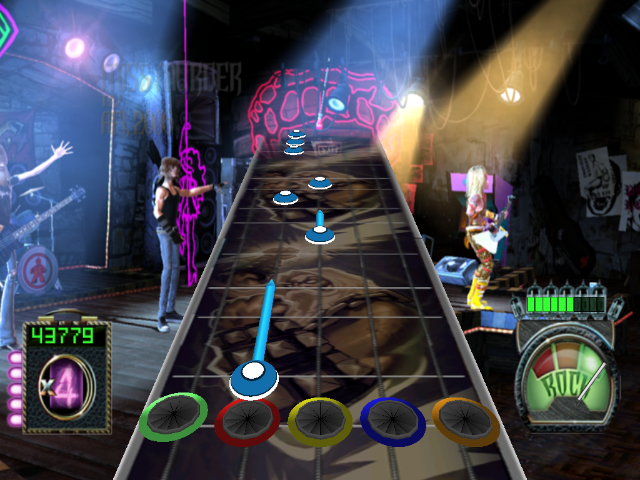 Also, more good news, i designed this on a 4x3 screen so that the 16x9 users will automatically fit right in. That way i won't get complaints from 4x3 users anymore.
Worldrave's GH3 Complete MOD-
Rapidshare Link
Mediafire Link